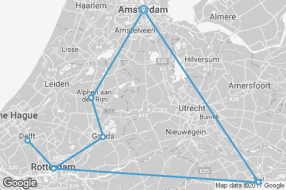 Price starting from

Duration

Ideal age

€1052





5 day

2 to 99 year olds

Starts in

Ends in





Amsterdam Amsterdam



Style







Marine tour through Europe



Operator





Tour Code

CroisiEurope River Cruises

AWA_AWA_AIPP

Itinerary
Introduction
DAY 1: AMSTERDAM
Passengers are welcome to board the ship in Amsterdam between 5.00 and 6.00pm. After comfortably settling into your cabins, enjoy a welcome cocktail with the crew before dinner. Optional excursion common for both packages: Canal boat tour of enchanting Amsterdam at night.
DAY 2: AMSTERDAM - ALPHEN ON THE RHINE
Optional morning excursions proposed: CLASSIC: Optional guided tour of the heart of Amsterdam, a truly delightful city with a rich and fascinating past. DISCOVERY: Bike tour of Amsterdam. You'll be able to explore and learn about all the must-see and out-of-the-way sites. In the afternoon, cruise to Alphen-on-the-Rhine.
DAY 3: ALPHEN ON THE RHINE - GOUDA
Optional morning excursion common for both packages: Excursion to the magnificent Keukenhof Gardens (open from mid-March to mid-May. During the other months, we'll visit The Hague.) Cruise to Gouda, enjoy time on your own or join our hostess for a walk through the city.
DAY 4: GOUDA - ROTTERDAM
The morning will be spent cruising. Optional afternoon excursions proposed: CLASSIC:
Guided visit of Delft and Rotterdam. DISCOVERY: Spido tour of Rotterdam harbor and view from the Euromast While we are enjoying our tour, the ship will cruise to Rotterdam, where we will board it at the end of the afternoon. Tonight is our gala evening. Night spent cruising to Amsterdam.
DAY 5: AMSTERDAM
Enjoy breakfast on board before disembarking. End of our services
Overview
Built in 2014 and measuring 295 feet in length and 32 feet in width, Lafayette is CroisiEurope's crown jewel. Its panoramic windows will make the Rhine river cruise an unforgettable experience for the 82 passengers it is able to host. What adds even more magic to the trip is the large sundeck this 2-deck ship is provided with. There's no room for doubt left here: when it comes to sightseeing, this ship has them all. All of the other aspects are not be left behind, either: outstanding services, impeccable crew and a place where the contemporary interior design is enhanced by luxurious materials, colors and lights
.
Dining
Soft drinks and alcohol, mainly wine and beer, are constantly accompanying the dishes that are being served.
Expensive drinks such as champagne and sparkling wines are not included in the cruising offer, meaning that they are going to be paid separately.
Overview
2010 was the year when this gorgeous riverboat came back to life after 9 years of uninterrupted Seine cruises. The result is one that CroisiEurope has nothing but to be proud of. Each of the 78 cabins it is provided with, has large windows and a balanced
furniture setting, which does nothing but to take its passengers to an instant state of calm and recreation. Last, but not least, the different tones of brown and green are completing this visual journey, contributing heavily to
Staterooms / Suites
Cabin (129 sq. ft.)
Through authentic Holland
Deck plans
Dining
Breakfast buffet with a great diversity in what the food options are concerned 3 course meals for lunch and dinner, served at fixed times
Dishes are always accompanied by free soft drinks such as juice, coffee, tea or water, or alcoholic drinks such as a variety of local wines and beers.
Drinks that are featured on the special wine menu list or the ones from the bar will be paid.
P-UBbSZe9 (only valid until September 30!)
Through authentic Holland
What's Included
Othernotincluded
Drinks on the wine list, Champagne at the bar; drinks served during excursions or transfers - cancellation and baggage insurance - the optional excursions (book and pay for on board or at your travel agency) - personal expenses.
Transport
Ship - MS Victor Hugo
Other
your cruise from dinner on the first day to breakfast on the final day - drinks including water, wine, beer, fruit juices and coffee served by CroisiEurope during meals on board, drinks served at the bar (excluding Champagne and wines on the wine list) - accommodation in a double air conditioned cabin with shower and WC - entertainment - the assistance of our hostess on board - the welcome cocktail - the gala evening - the insurance for medical repatriation - all port fees.
Destinations visited
Amsterdam, Netherlands
31 km
Alphen aan den Rijn, Netherlands
13 km
Gouda, Netherlands
19 km
Rotterdam, Netherlands
13 km
Delft, Netherlands
13 km
Rotterdam, Netherlands
65 km
Tiel, Netherlands
65 km
Amsterdam, Netherlands